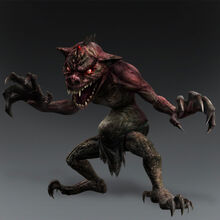 Description
A small and very common oni. Imps have a little stature and a prominent belly, her arms and face are red and her lower body presents a grey-black coloration, they have a small horn in the forehead and use a loincloth.
They move usually in big groups and use their sharp claws and fangs to kill travelers, but they aren't a threat for trained slayers. Likewise they are used as a cannon food by superior Oni like Chtonian Fiend
Combat
Imps are weak ann very easy to kill, even so rookie slayers have to be careful with big groups.
Trivia
-Her bellies are implied to be hollow.
-They appeared in the publicitary anime.
Materials
| Material | Description |
| --- | --- |
| Tenacious claw | Claw from an Imp's hand. Small, but extremely sharp so it can be used to pierce and tear flesh. |
| Abdomen | The round, swollen belly skin of an Imp. Hollow on the inside. |
| Avaricious fang | The fang of an Imp. Small, but sharp and curved so it can latch onte prey. |
| Soil | A black, sandy substance. Throught to be from the Otherworld, but its uses are limited. |
| Otherwordly debris | An unknown substance. The Slayer Headquarters will purchase it at a high price for it's value in Oni research. |
| Ravenous fang | An Imp's twisted fang, sharper and more deadly than usual. Once imbedded it is extremely hard to remove. |
Gallery