Manhunter

Names

English Name:
Manhunter
Translated Name:
Mifuchi
Japanese Name:
ミフチ
Nicknames:
Unknown

General

Total Body Parts:
9
Elemental Weaknesses:
Elemental Resistances:
Areas:
Unknown

Games

First West Appearance:
Toukiden Age of demons
Last Japan Appearance:
Toukiden 2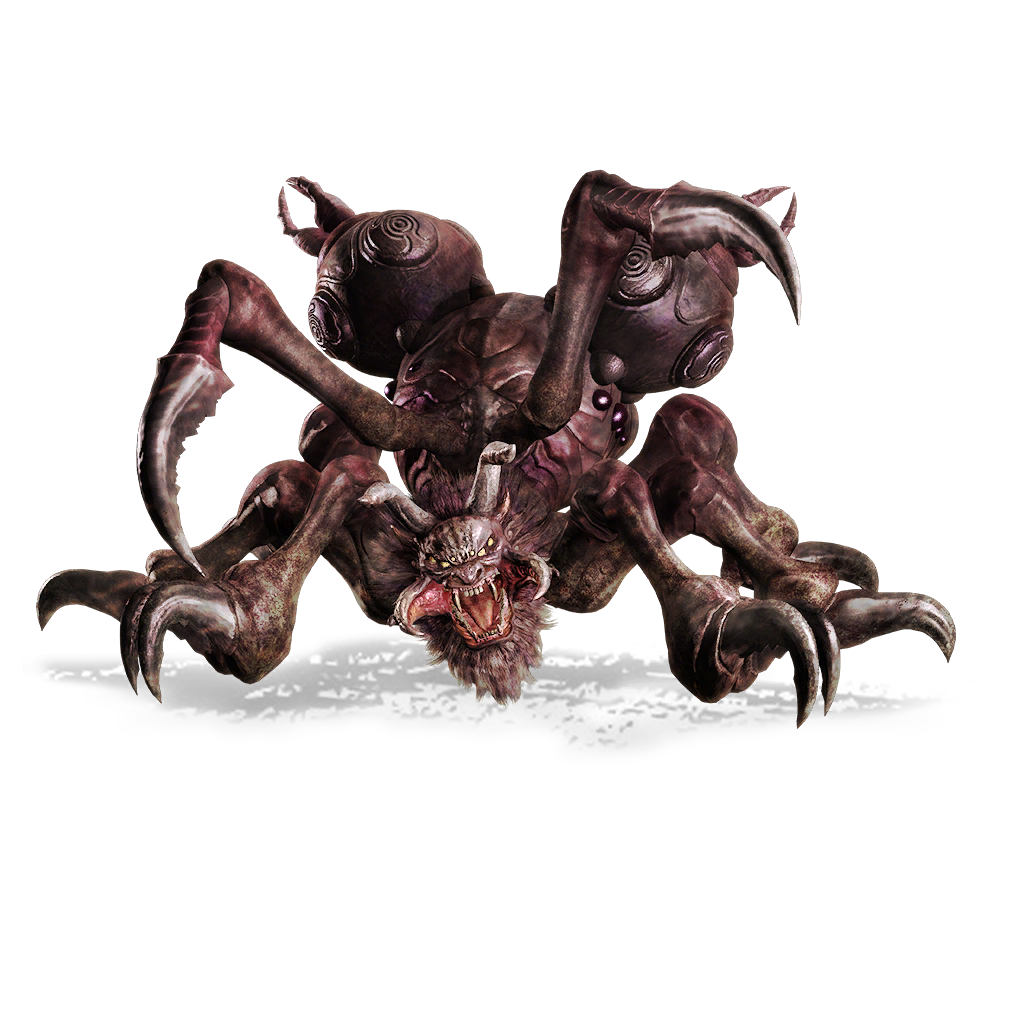 Description
A large Oni with the body of a spider and the head of a lion, they are highly feared ny the villagers. With their sickle-shaped claws, they can cut through just about anything. Amongst the larger Oni, that having killing one the mark of a worthy Slayer.
Habilities
Manhunters use her sickles to attack, but they can also use spiderwebs to inmobilize her preys and can breed poison spitters from the protuberances in her back.
When enraged Manhunters can spin over her own legs and expluse rocks from her back.
Combat
Manhunters are vicious and supose the first serious obstacle for every slayer. But they have a huge attack window, making some of his attacks predecible, when enraged the spin attack can incapacite a Slayer in 1 or 2 impacts and are difficult to dogde, caution is recomended.
In toukiden 2 after losing all her legs will use more often the web attacks.
Destructible parts
-All four legs plus her sickles can be severed and can be affected by the Oni Burial
-Her horns can be broken permanently
Trivia
-Oka hates Manhunters, bacause she is arachnophobic.
-Her webs can obstruct paths in Toukiden 2
-Her apparence resembles a Ushi Oni from Japanese folklore.
Mitamas
Normal
English
Japanese
Type
Age
Quest
Chance
Abe no Seimei
安倍晴明
SPT
Grace
Chapter 1 ★ Slay the Manhunter!
Medium
Matsu
まつ
HLG
War
Chapter 2 ★ Red Zone Rescue - War
High
Kajiwara Kagetoki
梶原景時
SPD
Honor
Chapter 3 ★ The Spider's Web
Low
Oryo
おりょう
DEF
Chaos
Chapter 4 ★ Ebony and Ivory
Very low
Expert
English
Japanese
Type
Age
Quest
Chance
Aterui
アテルイ
DEF
Grace
Chapter 6 ★ Dances with Spiders
Low
Lady Takiyasha
滝夜叉姫
DCT
Grace
Chapter 6 ★ Dances with Spiders
Very low
Chiba Sanako
千葉周作
SPC
Chaos
Phase 10 ★ The Spider's Den
Very low
Materials
Gallery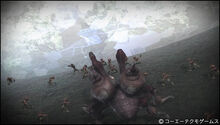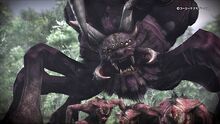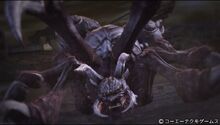 Source: toukiden.info and toukiden.net