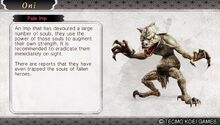 Description
A Imp who has devored a large number of souls obtaining a characteristic pale coloration. This Imp is more dangerous than her counterparts.
Habilities
Capable of using earth attacks plus the common habilities of a Imp.
Combat
Pale Imps are stronger than other Imps and can use earth attacks, in group can be dangerous for low rank slayers.
Trivia
-This is the unique type of Imp that can drop mitamas.
-Her bellies are plenty of ethereal energy proceding of the souls they consumed.
Materials
| Materials | Description |
| --- | --- |
| Voracious fang | The fang of a Pale Imp. Has greedily devoured many souls. |
| Luminous shard | Part of a glowing orb left by a Pale Imp. Belived to be a fragment of a pure soul |
| Shattered horn | A horn that has been broken into many pieces. It would be difficult to put back together. |
| Petrified bone | A bone from something that has turned to stone. It is unclear whether it fossilized over time or was influenced by the Otherworld. |
| White drum | The belly skin of a Pale Imp. Gives off an Ethereal energy due to the power of the souls trapped inside. |
| Hardened Oni skin | The hide of a small Oni that has become harder than normal. Extremely durable. |
| Clinging claw | A Pale Imp's twisted claws, sharper and more deadly than usual. Not easy to shake off once embedded. |
| Writhing mud | Extremely sticky substance similar to mud. In constant movement. Thought to comprise the most vital parts inside the bodies of small Oni. |
Mitama
| | | | |
| --- | --- | --- | --- |
| Name | Typ | Age | Quest |
| Yoshino Dayu | DCT | Peace | Chapter Mission 3-5 |
| Ano Yasuko | LCK | Honor | Chapter Mission 7-16 |